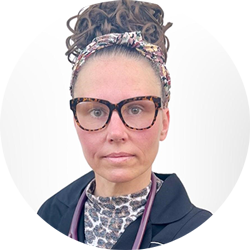 Sheila A. Medina
Sheila Medina is a doctorally prepared family nurse practitioner, board certified by the American Association of Nurse Practitioners, and licensed to practice in Texas and Alaska. Sheila began her nursing career over 20 years ago in the United States Army.
She completed her Master of Science in Nursing (MSN) – Family Nurse Practitioner Degree at the Uniformed Services University of the Health Sciences and her Doctor of Nursing Practice (DNP) degree at the University of Wisconsin Oshkosh. As a Family Nurse Practitioner, she treats the whole family across the lifespan. That means, "I can assess, diagnose, and treat most conditions from infancy to elderly that present to the clinic."
Sheila grew up in Milwaukee, Wisconsin. She served over 24 years in the United States Army and is married with two children. She is an avid fan of artwork (particularly oil paintings), photography, "Hello Kitty," and "Wonder Woman." In her spare time, Sheila enjoys spending time with her family and friends, traveling the world, Broadway shows, running, kayaking, knitting, playing the keyboard, and singing.
Practice philosophy:
Sheila believes in forging strong relationships with people to understand their health needs and goals. She understands the importance of collaborating with each patient individually to develop a plan to achieve the best possible state of health.